Welcome to Beyond Therapy in Meridian, MS
The dynamic team at Beyond Therapy consists of a group of speech language pathologists, physical therapists and occupational therapists. Each are uniquely skilled in creating evidence-based therapy interventions that seem like play and are fun for children! We are the place where therapy meets play.
We are part of the Upstream Network, a family of brands providing world-class rehabilitation services with compassion and care across 1,100+ locations throughout the US.
Our Team
Leah Graham, MOTR/L
Clinical Director
Leah graduated from Mississippi State University in 2014 with a Bachelor of Science degree in
Interdisciplinary Studies. She went on to receive her Master of Science in Occupational Therapy
from the University of Mississippi Medical Center in 2018. Leah has training in Handwriting
Without Tears, DIR Floortime, primitive reflex integration, Learn, Play, Thrive Approach to
Autism, Mealtime Miseries feeding intervention, and sensory integration. Her clinical interests
include: fine motor and visual motor skill development, sensory processing, sensory-based
feeding, and pediatric activities of daily living. Leah celebrates neurodiversity and has a desire
to improve autonomy for her patients through a strength-based approach to intervention. Leah
lives in Meridian, MS with her husband and two dogs.
Elisa Colgrove M.S. CCC-SLP
Elisa graduated from the University of Montevallo in 2016 with a Bachelor of Science in Communication Science and Disorders and obtained a Master's of Science in Speech-Language Pathology in 2019 from the University of South Alabama. She enjoys working with a variety of acquired and developmental speech, language, and social communication disorders. Elisa believes in meeting clients where they are and building the bridge of communication together with clients and their families. Therapy sessions are built around FUN language learning through play-based experiences and real communication opportunities within everyday routines. Elisa lives in Epes, Al with her husband, 3 month old son, and 2 dachshunds.
Effectiveness of Care
We are consistently better than the national average.
Our philosophy of care is dedicated to consistently providing our patients with the best care and service humanly possible. Our purpose is centered on our patients, not ourselves, ensuring we always do what is in their best interest.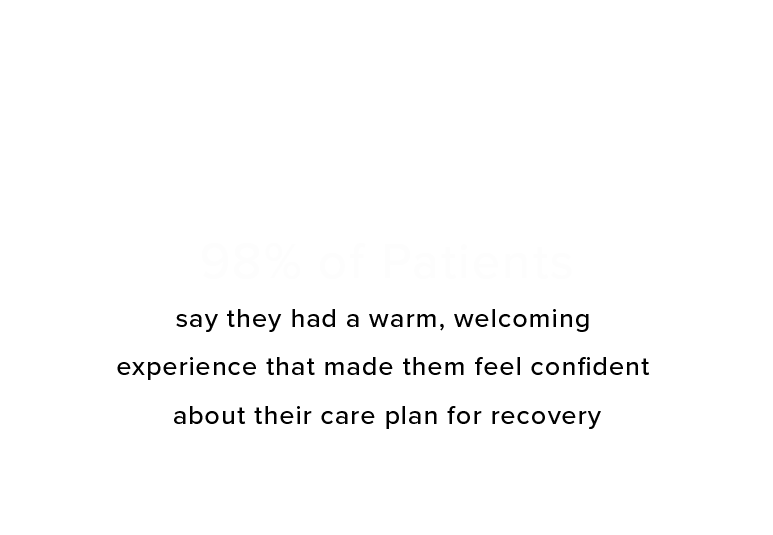 "Great place for physical therapy – they are a wonderful group of highly-trained physical therapists that eliminate pain and give you the tools you need to remain pain-free."
Physical Therapy Patient
"Great place for physical therapy – they are a wonderful group of highly-trained physical therapists that eliminate pain and give you the tools you need to remain pain-free."
Physical Therapy Patient